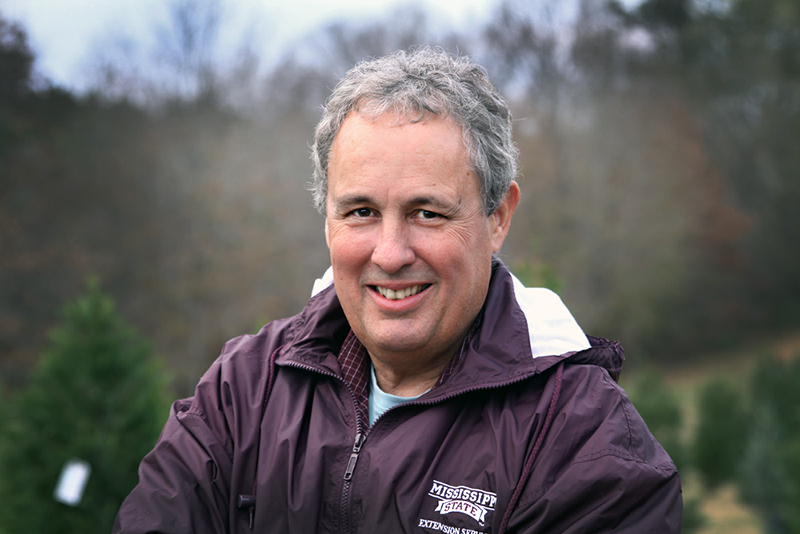 The journey to the Christmas tree farm to choose the perfect tree is an important tradition for many Mississippi families.
Christmas trees are a small, specialty segment of the state's forestry industry, but need a lot of attention throughout the year, said Stephen Dicke, a forestry professor with the Mississippi State University Extension Service.
"People who buy Christmas trees only think about them for about three or four weeks out of the year," Dicke said. "But for producers, they are a full-time job."
Growing a healthy crop is an intense process, requiring a rigorous fungicide spray schedule, esthetic shearing and patience. Christmas trees take four years to grow to the most popular heights of six or eight feet.
Dicke has worked with Mississippi's Christmas tree growers since 1989. After a stint in the forestry industry and Louisiana State University, he returned to the MSU Extension Service to work with urban and commercial producers.
"While I was at LSU, I was part of a student organization that grew and sold Christmas trees as a fundraising effort," he said. "There I learned every aspect of this business, so when I came back to MSU, I have been able to help Extension's clientele."
Dicke also works with Christmas tree growers in Alabama and Louisiana, since those states' Extension Christmas tree programs dissolved recently.
Although it can be very busy, Dicke enjoys the work he has dreamed of doing since he was 12 years old. Growing up in rural South Dakota and Nebraska, he spent many days camping with his family and Boy Scout troop in the Black Hills and Rocky Mountains.
"On these trips, I frequently met foresters. I was envious because they lived and worked at the beautiful places I never wanted to leave," said Dicke, who specializes in urban and commercial forestry. "So even as a kid, my heart was set on being a forester. To me, a forester lived in the mountains and rode around in a pickup truck. I came to find out that wasn't exactly right, except maybe for the part about the pickup."
Dicke is stationed in the Frank T. (Butch) Withers Jr. Central Mississippi Research and Extension Center in Raymond, near Jackson. His primary duty is teaching off-campus courses and workshops at the Extension offices located in each county. He is a registered forester who specializes in timber casualty appraisals, timber income taxation, and contracts. As a certified arborist, he evaluates the risk of tree failures and provides appraisals.
"Being stationed in the central part of the state gets me closer to the people that need my help: landowners, foresters, loggers, Christmas tree farmers and others," he said. "After 25 years on the job, I still think I have the best job in the world. The challenges and opportunities change every day, and I love coming to work. My greatest joy has been the application of a little knowledge about trees and forests to improve the lives of people and the environment we live in."