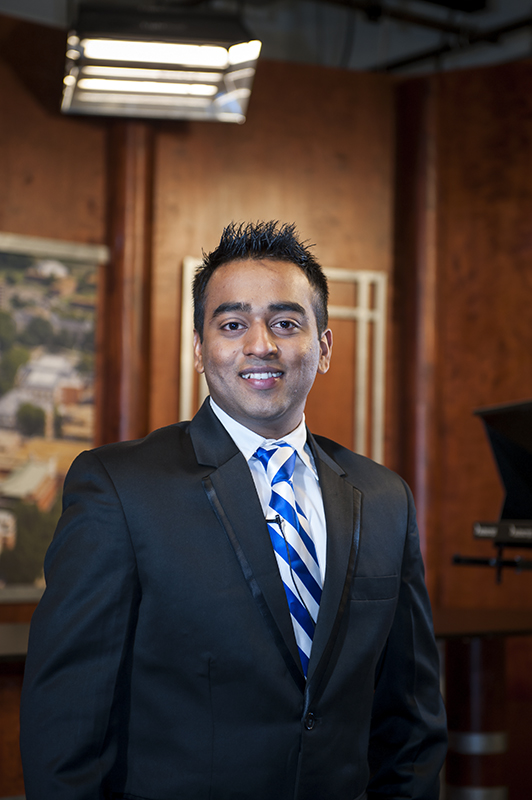 When eight American universities offered India-native Pranaav Jadhav ("Pranawv Jodhawv") the chance to enroll, he picked Mississippi State because of its University Television Center.
"To be able to use the facilities and equipment here and to learn all the tech terms in broadcasting—it was a huge opportunity," said the communication major who graduated Saturday. "After I got admitted in 2010, I started promoting more students to come to Mississippi State from India. That year, 22 students came, the most ever, I think."
Jadhav emphasized his concentration in broadcasting is only a stepping stone to his career goal of becoming an international affairs news reporter. During his time on campus as a news reporter and opinion columnist for the Reflector, he claimed the Best Breaking News Coverage Award from the Mississippi Press Association, and breaking news is one of his greatest passions, he said.
"The Starkville Police Chief nominees story was probably my biggest," Jadhav said. "I was the first reporter in Starkville to get all five names of the candidates. The board of aldermen were very secretive, and it was hard to get close and get that information, but knowing the names and breaking them before anyone else was one of my best news stories in this country."
Jadhav also has interned at CNN-IBN, or Indian Broadcasting Network. He said he singled himself out at the interview through his University Television Center experience, his familiarity with broadcasting equipment and the knowledge of news ethics he gained here at MSU.
"If I hadn't been at Mississippi State, I wouldn't have even gotten that interview," he said. "As an intern, I got to meet top executives and cover disasters. I was right there in the middle of it in a flood and another time in the riots, bringing the news to the people."
He also covered the untimely deaths of 22 children, and his work attracted the attention of the BBC, which then contacted him for a show. In July 2013, he was featured as a guest speaker on BBC World Service.
"It's been a good four years over here because of the skills that I've learned and the knowledge I've gained, plus the excellent standards here," Jadhav said. "If not for Mississippi State, I wouldn't have achieved the things I've achieved as a student or as a reporter.
"When I came into this program, I was very cynical: I wondered, are we really helping people? But this program taught me the impact that journalists really have in this society, and we are helping."
One of Jadhav's favorite campus spots is the Chapel of Memories, a great place to reflect, relax and let go, he said.
Still, no matter what the future holds, for Jadhav, it will be a career in reporting.
"I never wanted to be an editor; I'm a news reporter," he said. "The most important thing is, when I go to sleep at night, I want to feel like I've done a good job reporting today."