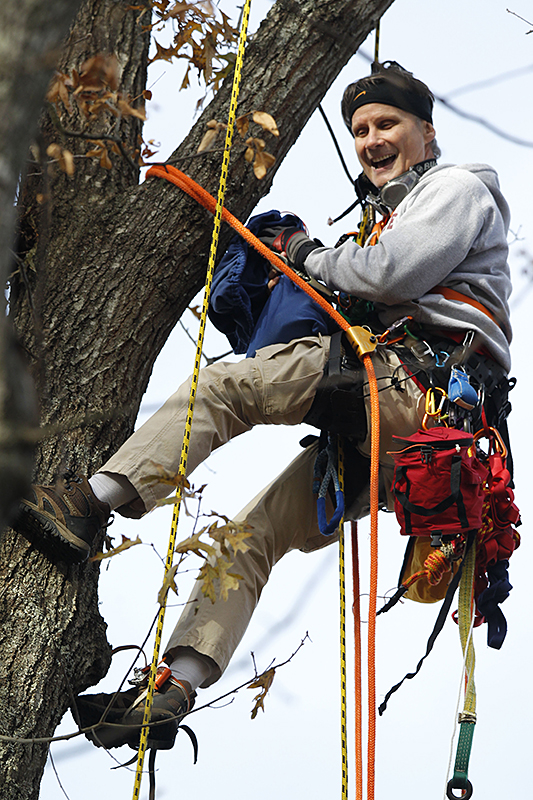 For 26 years, Robert B. "Bob" Reese has taught students in the field of electrical engineering at MSU, but this Bulldog still makes time to save cats—and not just those in his own back yard or neighborhood.
Since the spring of 2013, Reese has responded to felines in distress as far away as Memphis and Hattiesburg
Explaining his deep empathy for the creatures, the Eunice, Louisiana, native asked, rhetorically, "Imagine your own pet being stuck in a tree 30 feet in the air; wouldn't you want your pet to be rescued?"
Reese said he began the rescues when his own cat had scampered up a tree and found itself with no idea how to get down. This simple situation sparked his interest and caused him to learn all he could about how to help.
Even though he considers himself only an amateur climber, he has accumulated appropriate rescue gear and offers his service free of charge. He offers a helpful website, https://sites.google.com/site/kittytreerescuems/.
"I love being the hero for the people that call in distress for their pet," said Reese, whose career path to MSU began while pursuing a bachelor's degree at Louisiana Tech University.
It was while in Ruston that he found the love of his life, Donna, who now heads MSU's computer science department. The two went on from Tech to complete master's and doctoral degrees at Texas A&M University, where they made friends who would lead them to Starkville.
Reese has taught electrical and computer engineering senior design for several years, along with a variety of others departmental courses. He also has written two textbooks on microprocessors.
"We came to Mississippi State and fell in love with teaching at a university that cares immensely for its students and their education," he said.
Of the many campus awards and recognitions Reese has received, he takes special pride in three: being named the Bagley College of Engineering's Robert Guyton Chair for Teaching Excellence and selections for the John Grisham Master Teacher and MSU Alumni Association's Excellence in Undergraduate Teaching awards.
Over his long career, Reese said he has learned that, just like students, "professors are people outside of the classroom." For him, cat rescue is one way to be part of the community.
Reese said no cat should remain trapped in a tree or other high location for more than 24 hours. "The kitty is depending on you," he said. "Please seek help from some source to rescue your cat."
So, when cats find themselves in high places with no clue how to come down, contact Bob Reese 662-418-0479 or visit his website.
Help will be on the way.