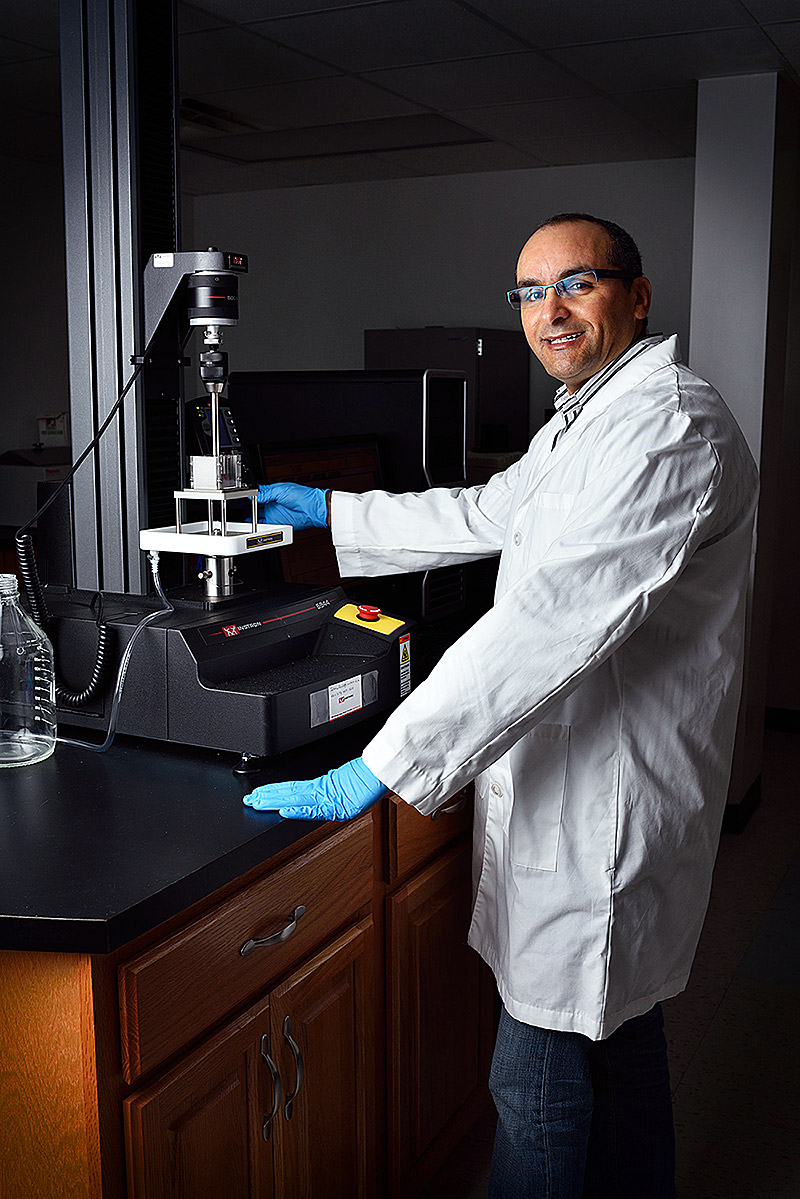 Mississippi fruit, vegetable and seafood producers can count on Barakat Mahmoud for information and training on preventing food-borne illness during production, harvest, cleaning, packing and transport.
But Mahmoud, an assistant research professor of food safety and microbiology with the Mississippi State University Mississippi Agricultural and Forestry Experiment Station, knew that his work could impact producers and consumers around the world, improving the security of the global food supply.
Since 2011, he has taken time out from his work at the MSU Experimental Seafood Processing Laboratory in Pascagoula to volunteer through the U. S. Agency for International Development's Farmer to Farmer Program. He has helped farmers, agricultural employees and regulatory agents in other countries reduce food-borne illness and food waste.
"I consider myself an international scientific diplomat," said Mahmoud, who holds a joint appointment with the MSU Extension Service. "The world is much more closely tied together than ever before, through the food we eat, the clothes we wear and the information and ideas we share. I strongly believe that international barriers will need to become less relevant as we face the challenge of feeding a world with a population that is expected to exceed 9 billion by 2050."
On Mahmoud's trip to Guatemala this September, he trained more than 50 farmers, packers and farm managers employed by Royal Produce Company. It is one of the largest companies to export fresh vegetables to the U.S. from Guatemala.
The U.S. is the country's main agricultural trading partner with exports valued at $924 million in 2006. Canada and Europe are other key international markets, Mahmoud said.
"One of the major challenges faced by Guatemalan exporters of fruit and vegetables is compliance with food safety standards in the U.S., Canada and Europe," Mahmoud said. "Most of the time food was detained at the border because of high pesticide residues and biological contamination."
Non-compliance with food safety standards in these countries can sicken thousands and cripple Guatemala's economy. The agricultural sector in Guatemala is responsible for 13 percent of the gross domestic product and employs 38 percent of the workforce, Mahmoud said.
During the week Mahmoud spent in Guatemala, he conducted workshops on good agricultural practices, good handling practices and the new regulations set forth in the Food Safety Modernization Act. These workshops educate growers on current food safety guidelines and rules issued by the U.S. Food and Drug Administration.
He also audited a packing house, four farms and a collection facility to help farmers and employees understand how to avoid compliance violations.
Other countries Mahmoud has visited through the Farmer to Farmer Program include Egypt, Lebanon, Malawi, Mozambique and the Dominican Republic.
Mahmoud also has shared his expertise in Canada, Japan, Lebanon, Oman, Portugal, Thailand, South Korea and United Arab Emirates through other programs with the USAID.