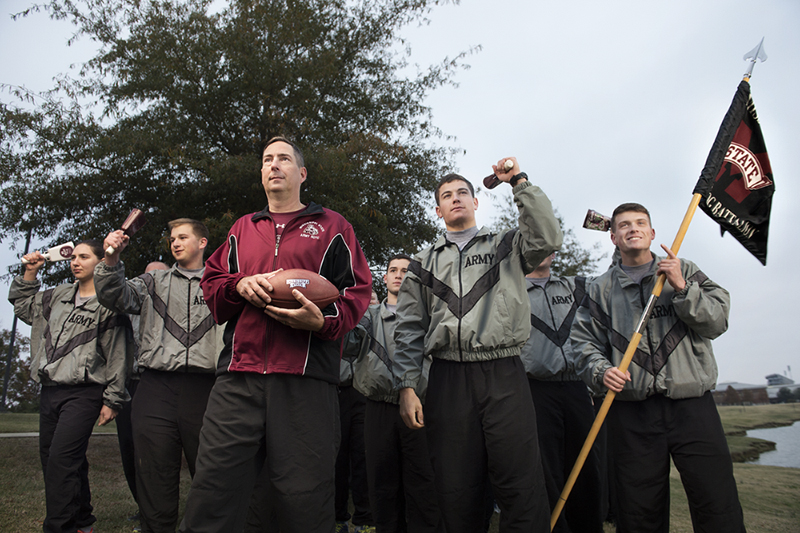 Now in his fourth year as senior military science instructor and battalion operations officer of the Army ROTC department at Mississippi State, traditional Guardsman Michael Hunter says working with some of the best future leaders of the military, state and country is the most rewarding part of his job.
"I started out teaching freshmen when I got to State, and now they're seniors, so I've been able to witness their growth throughout the program," Hunter says. "Our cadets are motivated and they want to make something of themselves, and I really enjoy being around them."
Hunter, a member of the Mississippi Army National Guard since 1987, received his commission in 1991 at the historic Officer Candidate School at Fort Benning, Georgia. In 2002, a year prior to receiving a master's degree in public policy and administration from the university, he was deployed to Bosnia for duty as a battalion joint military commission officer.
In 2005, he again was deployed overseas, this time to the Middle East for the Iraqi Freedom 3 campaign. In Iraq, he commanded a field artillery unit and served as a cavalry squadron's police liaison officer.
After having been called to state active duty in 2008 to assist with recovery operations following Hurricane Gustav, Hunter was redeployed to Iraq for a final time in 2009 as the 155th Heavy Brigade Combat Team's planning officer. Before returning to his alma mater in 2010, Hunter worked as a uniform officer with the Oktibbeha County Sheriff's and Starkville Police departments.
Having been reared 25 or so miles south of MSU in the Noxubee County seat of Macon, Hunter says he's "always been a Bulldog fan" whose father, sister, brother, and brother-in-law also are graduates of the land-grant institution. He and wife Tina are the parents of son Tyler, now a student at East Mississippi Community College's Mayhew Campus.
In addition to teaching and military service duties, Hunter serves this year as coordinator for the Egg Bowl Run, the annual lead-up to the Bulldog's Nov. 29 football game in Oxford with in-state and Southeastern Conference rival University of Mississippi.
"We look at it as even though there's a rivalry between the two universities, there are common goals that our cadets have: to complete the Egg Bowl Run and to get commissioned," Hunter says of the new Egg Bowl tradition.
"Just like in the Army, you're going to work with other units to accomplish a common goal or mission, so this event allows us to start introducing the cadets to that concept."