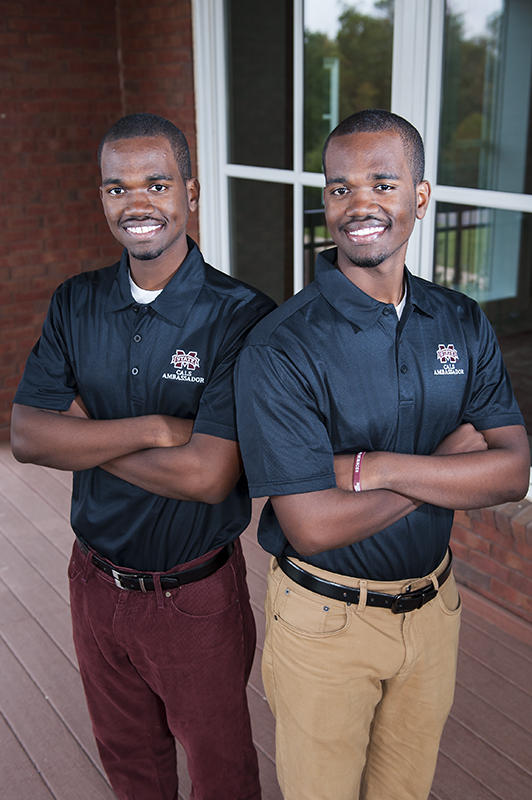 Rarely does one encounter a more identical set of twins than MSU sophomores Malcolm and Hannibal Brooks of Pensacola, Florida.
The food science majors not only look and sound nearly the same, but their interests also are closely mirrored.
Their commonalities serve them well. Adjusting to being away from home wasn't too difficult for the National Achievement Finalists. Since the Shackouls Honors College students are roommates, living in Griffis Hall is a lot like home, they said, except they have bunk beds.
One of their strengths is the study habits they have developed together, and they challenge each other to do their best academically. As high school students in an International Baccalaureate program, both excelled in Advanced Placement courses and developed an interest in STEM subjects.
They praise their parents, Larry and Brigette Brooks, for allowing them to explore potential universities and career paths.
"They nurtured our creativity," said Malcolm. "They told us to pick something we would really love."
As out-of-state students, Hannibal and Malcolm weren't very familiar with Mississippi State until they began the college search process. Although they explored different career options and were not set on choosing the same major, their interest in biology and their belief that STEM fields would offer good jobs after graduation were factors that ultimately led both to major in food science.
They evaluated MSU's food science program and found it to be a comprehensive department that focuses on everything from the processing of food to its marking, consumption, and impact on public health. When a visit to campus revealed State's warm and welcoming atmosphere, they were eager to enroll.
At MSU, they are gaining many new experiences, such as studying Chinese for the first time this semester.
"A lot of international students are studying in the food science program, and I thought it would be interesting to be able to communicate with them more effectively," said Hannibal, the elder brother by one minute.
Not only are they thriving in their academic endeavors, but they also are enjoying plenty of co-curricular activities. They are ambassadors for the College of Agriculture and Life Sciences, and they both serve on the executive board of the Food Science Club.
Additionally, both enjoy being part of the Silver Screeners Movie Club and are helping to expand the Quiz Bowl team.