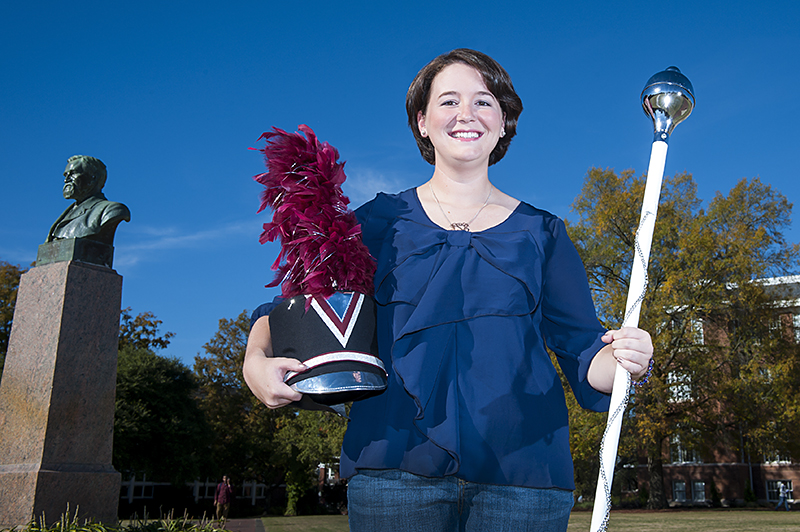 Mississippi State was the only university meeting all of Faith Smith's academic and co-curricular criteria when she came to Starkville in 2011 as a freshman from Collierville, Tennessee.
As the 2014 fall semester draws to a close, the senior computer engineering major is giving thanks for her learning experiences at the university, as well as the leadership opportunities she's experienced over the years.
She's chair of Mississippi State's Honors Council, a member of the university's robotics team for IEEE SoutheastCon, or SECON; and one of the drum majors for the Famous Maroon Band.
"Mississippi State is a school where you get to meet so many people, and the great thing is, there are so many resources available here to help you succeed," she said. "The engineering coursework here is not for the faint of heart, but the professors will help you.
"Also, there is some great undergraduate research going on here," Smith continued. "I got involved in my first project as a freshman, and I've been adding skills to my resume through this research ever since, and that makes me more employable."
Robotics is one of Smith's passions. She said the Bagley College of Engineering's rigorous educational program and the opportunity to participate on the SECON robotics team are giving her the background she needs to land her dream job at Walt Disney World Resort in Orlando, Florida.
"I even got to do an intern co-op last summer at International Paper Company in Memphis, and that work experience, with getting to study at Mississippi State and be on the robotics team, is giving me what I need to get the job I want," Smith said. "They have a 'MagicBand' that can be your room key, reservation ID and park ticket, and it was developed by their emerging tech department.
"The work they're doing is so important to consumer culture, I just want to be part of it. Plus, Orlando is great, and Disney owns so many companies, I'll be able to move around within the company."
In addition to her drum major role with the marching band, Smith performs on French horn in Wind Ensemble, and she plays piano for the MSU Dixieland Jazz Band.
Along with meeting many friends as a member of the Famous Maroon Band, Smith also has many social connections through the University Honors Council, a group of Shackouls Honors College students, elected by fellow students, who plan activities and discuss issues.
"Everyone here treats me like family," she said.