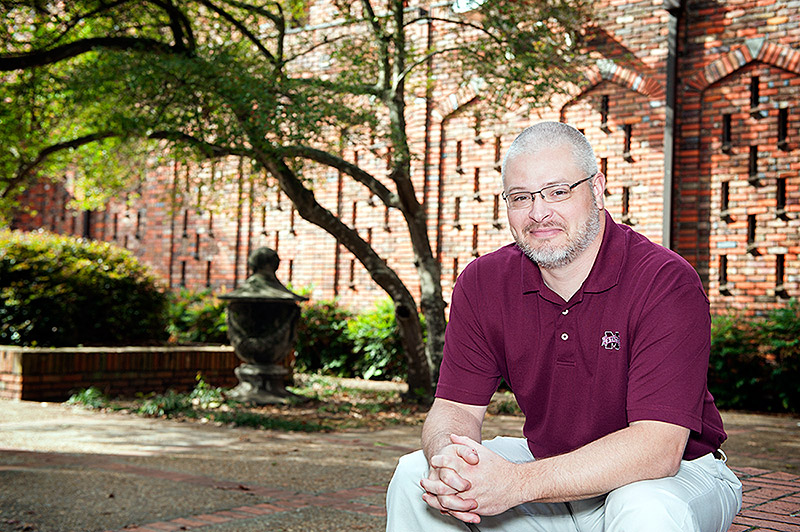 Since enrolling at Mississippi State in 1993, Brad Skelton has loved the university's family atmosphere. He now is living his dream as an instructional design specialist with the Research and Curriculum Unit, a MSU-based unit that works closely with the Mississippi Department of Education.
Skelton grew up in Scottsboro, Alabama, and was the first in his family to attend college. Introduced to MSU by a high school friend, he knew he belonged here immediately after first stepping foot on campus.
"MSU is quality education and quality people," said Skelton. "It's a place known all over the country but always feels like home."
Throughout his student days, Skelton said he enjoyed spending time with friends, especially the former Amy Townsend who now is his wife of 17 years. Because of so many positive experiences, Skelton said that he never wanted to leave.
"While a student at Mississippi State, I built my foundation for my future and my family," he said.
After graduating in 1997, he and Amy married and moved to Louisiana. In 2000, their son Marshall was born and they moved back to Mississippi. While living in Jackson for 12 years as Brad worked at various educational and agriculture jobs, they welcomed daughter Sarah.
Two years ago, the Skelton family came to Starkville when Brad accepted the RCU position. In that role, he composes agriculture curricula for high school career and technical programs across the state. To do that, he first must research standards of new technologies by talking with various agriculture industry representatives. In formulating curricula that is both challenging and attainable, he works closely with MDE colleagues in the state capital.
Because agriculture "is the number one industry in the state," Skelton said, "We try to expose students as early as possible to what opportunities are available in the world of agriculture."
Away from the office, Skelton said he enjoys spending time walking on campus with his family and their dog. Often, they stop at the Chapel of Memories, which reminds him always to have perseverance. Without it, he might not have had the opportunity to return to the school he loves.
"Whether you are a student pursuing a career path or an employee developing others for their career path, Mississippi State is the perfect place to grow your own future and family," Skelton said.