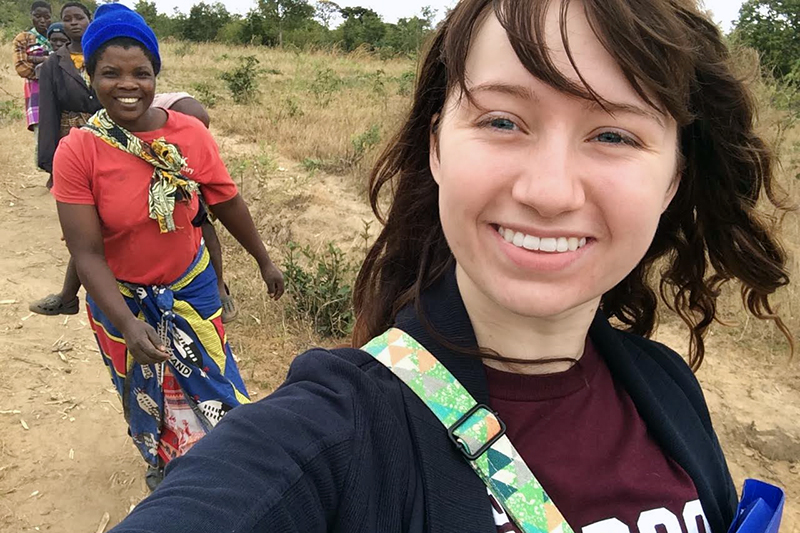 An internship this past summer in Malawi gave Nesbit sophomore Naomi Taylor the experience of a lifetime.
The daughter of William and Jeannie Taylor, she traveled to the southeastern African nation to work with the Food and Agriculture Organization of the United Nations. An environmental economics and management major in the College of Agriculture and Life Sciences, she helped the FAO assess the outcomes of irrigation techniques that had been introduced to small farmers in the wake of a 2005 drought.
"I knew I was making a difference by not only helping FAO, but the farmers in Malawi and all those who use their products," Taylor said.
The hands-on learning opportunity was made possible through MSU's International Institute and its Office of Study Abroad, with special assistance from study abroad coordinators Kristen Bloom and Anika Campbell, who are both passionate about seeing MSU students have global experiences.
While Malawian culture was different from anything she ever had seen, Taylor said it also was her favorite part of trip. During visits to various villages in the surrounding area, she was greeted with singers and dancers thanking her for the work she was doing.
"Living in a third-world country for three months was not a walk in the park," Taylor said. "However, the experiences I had there were indescribable."
She said a desire to be part of change that impacts the world helped set a long-term goal to become involved with environmental policy, beginning in the United States and expanding beyond its borders. After admitting that she doesn't "know what the future holds," Taylor added, "However, I do know that Malawi is not the only place that needs help."
At the conclusion of her internship, Taylor presented a 46-page report to NAO offices in the city of Kasunga and the Malawian capital of Lilongwe. Her research and analysis of food, security and nutrition of farms both with and without irrigation also was made available to her MSU faculty advisers.
"Mississippi State helped me help others around the world, and for that I will always be grateful, "Taylor said. "Without Dr. Randy Little and other professors at MSU, I never would have applied to be a candidate for FAO and given this wonderful opportunity."
Little is a professor agricultural economics.
Because the international experiences had been were more than she ever dreamed, Taylor said returning to the United States and MSU left her feeling "bittersweet." Nevertheless, she expressed excitement in seeing what her sophomore year has in store.
"When I was a senior in high school, I knew I had to come to Mississippi State," Taylor said. "Now, I cannot imagine what my life would be like without this amazing university filled with endless opportunities, like sending me to Africa."