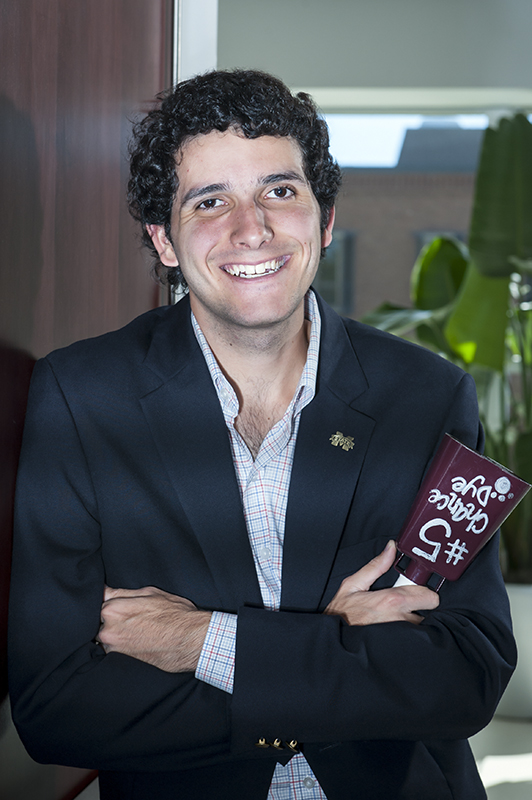 From the moment he first stepped onto the Starkville campus, Cullman, Alabama, native Chance Dye understood why Mississippi State often is referred to as "The People's University."
"It doesn't matter who you are or where you're from; you're going to have opportunities to make a name for yourself here," says the son of Debbie and Donnie Smith. "I got that vibe from the people I met while touring campus on Fall Preview Day during my senior year of high school.
"While eating in the Union and walking in the Junction, I felt that home-like atmosphere that I really didn't feel at the in-state schools I visited," the 2011 Good Hope High School graduate adds. "I really knew that I was going to try and do whatever I could to end up here."
Looking back to those early days, Dye says, "I don't regret coming to Mississippi State one bit."
He was elected last spring to serve as the 2014-15 Student Association treasurer. A senior business management major pursuing a minor in marketing, he also makes time to sell advertising for The Reflector and be a very active member of Phi Gamma Delta social fraternity. This summer, he served as FIJI recruitment chairman, a very demanding duty.
Dye says being involved and holding various campus leadership positions have helped him form a number of new, lifelong friendships. Even more, the experiences have helped him overcome a fear of public speaking and improve his interpersonal skills, in general.
As he tells prospective students, "If you have a positive outlook on things and a good personality to go with it, you, too, can get involved, meet people, and enjoy every minute of your time here at Mississippi State."