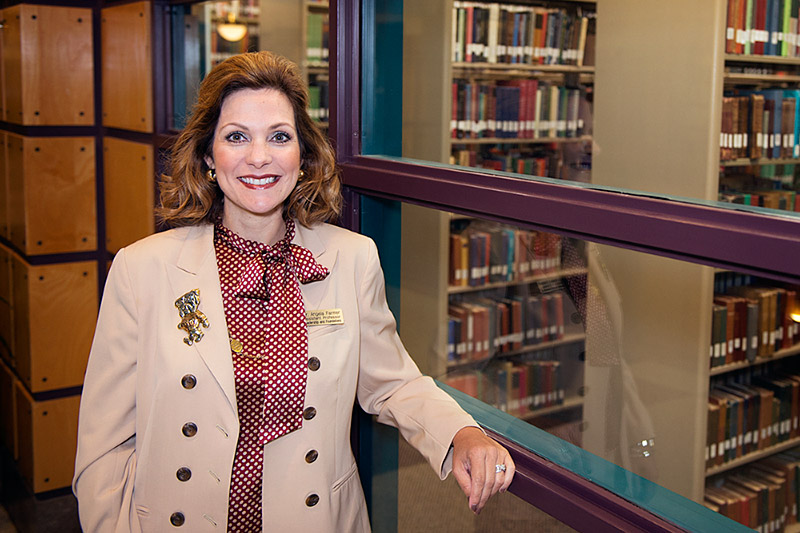 From industry to classroom, high school teacher to high school principal and assistant superintendent to headmaster, Angela Farmer has been there and done that from Illinois to Kentucky and now, at Mississippi State.
In her latest role, Farmer's become an assistant professor in the College of Education's Department of Leadership and Foundations, and she's loving every minute of it.
"I've been very fortunate because I've had the opportunity to see through a number of lenses and bring my real-world experiences to students and help them take their theoretical knowledge and apply what they've learned in a practical and relevant way," she says. "When they someday assume leadership roles, they'll understand what to do and how to do it."
From her first Mississippi State visit to see her oldest son Max when he was a student, Farmer says she was impressed by the hospitality prevalent throughout campus. Max participated in the College of Veterinary Medicine's Early Entry Program.
She liked the university so much, she says, she began monitoring its website and waiting for an opportunity to apply for a job. Since she began teaching in the fall, Farmer is especially appreciating the opportunities she's receiving to research and publish.
"Mississippi State impressed me by the fact that it is very welcoming, and here, there appear to be a lot of opportunities to pursue my research interaests. After nearly 20 years in various settings, I'm getting the chance to expand upon the excellent things I saw in practice," she says.
"To be able to publish and find ways to further refine those leadership characteristics is very exciting."
Corporal punishment, androgynous leadership, charter schools and brain chemistry are just a few of the educational leadership areas Farmer is exploring as she researches and publishes about topics related to educational leadership and impact.
"Educational administration is a wonderful career, but it's no career for sissies," Farmer says. "You have to be prepared to make sound judgments that have to be backed up. It's a real benefit to be in this setting, where I can share what's applicable to all students in the challenges that we're facing daily.
"Being free to teach and research here at Mississippi State—well, it's just liberating."
In addition to Max, Farmer's family includes husband Scott and their two other children, Grant and Claire Rebecca. They also have Zoe, an English bulldog.