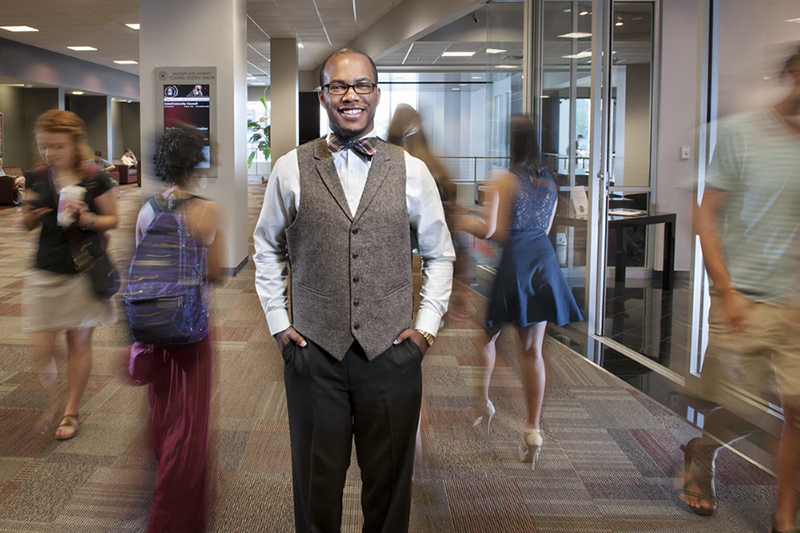 No matter their race, students at Mississippi State are provided opportunities to reach their full potential, says the university's NAACP chapter president.
Sanjaris Johnson, a junior educational psychology major from Canton, clearly is passionate about ensuring equal education for all people.
"I see State as a place where we've come for education, but we all leave with so much more," he says. "We're more diverse in what we know, who we know and how we obtain information."
In describing what he sees as a "so friendly" campus atmosphere, Johnson observes that "everyone is willing to help. At Mississippi State, you can believe in yourself and just go for it."
When he joined the campus NAACP chapter, Johnson was one of only 10 members. After becoming president, he worked to encourage greater participation via social media and today the organization boasts a membership of more than 80.
"We do a lot of community-service work; we don't limit the places we can go or the things we can do," Johnson explains. "Everybody is very diverse in background, education and relationships. We also do workshops about speaking out for what you believe in, where you want to go in life and where you are right now.
"We try to reach out to everybody."
Johnson's leadership roles on campus extend beyond the NAACP chapter. As a 2014-15 Alumni Delegate, he is one of only 28 students selected by the MSU Alumni Association to assist with programming and such social activities as tailgates and reunions. He also is a Student Honor Code Office proctor, and is actively involved with campus politics.
Johnson describes himself as "very interested in education and politics." In the future, he plans to enter politics and public service to "use my training in educational psychology for research on students' and parents' minds to be a better advocate for education." He adds, "I want all kindergarten-through-12th-grade students to get what they deserve, an equal education for everyone. By taking the focus off the political party, we can put it on how we can do better for our children."
The Colvard Student Union, Barnes & Noble Bookstore and any place where lots of diverse students may be found are among his favorite campus locales.
"Be your own motivation," he tells fellow Bulldogs. "I believe you can really do it."