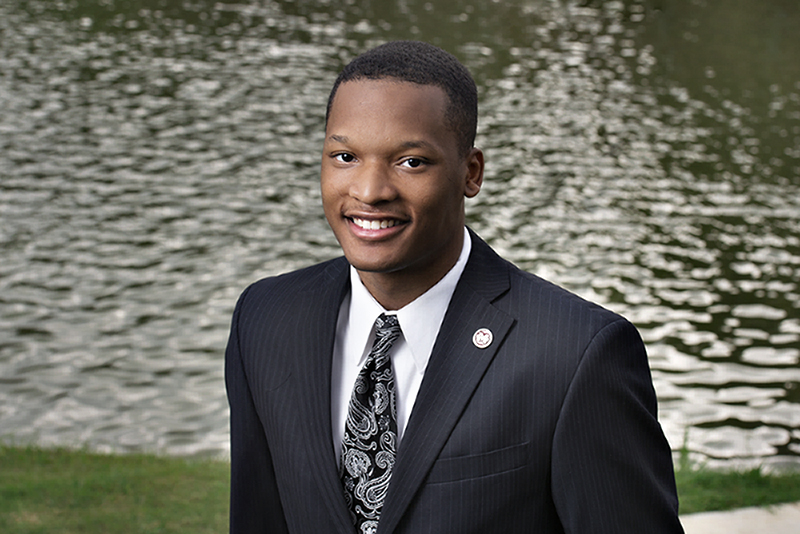 Joshua Thompson's primary goal in life is to go the extra mile to help all who cross his path.
At Mississippi State, he serves as the financial literacy graduate assistant in the university's Office of Student Financial Aid. Among other duties, he helps create programs to help students increase their financial literacy.
Thompson said he loves the job because it enables him to help others, whether through emails promoting an upcoming event or speaking face-to-face with clients about financial issues.
"The moment I walked on campus I realized how people here are all very friendly and want to do whatever they can to help," he said. "That is my favorite aspect about Mississippi State University. I knew I wanted to help students as I was also helped along the way."
A Jackson native, he was unsure of what career path to take as graduation approached at Jackson State University. As a psychology major, he had developed a strong relationship with a JSU Career Center counselor who happened to be a Mississippi State alumna.
Thompson said she encouraged him to consider employment and opportunities the Starkville land-grant institution might offer, believing that her alma mater could provide the resources necessary for him to continue to be successful.
"I can see the big picture now," he said, adding that the counselor "pointed me in the direction of a university whose primary goal is to help others."
Thompson said he is proud of a new financial literacy initiative in the financial aid office that enables MSU students to receive guidance to aid them both while on campus and well beyond.
"Growing up, I didn't see the career development opportunities as I did when I came to college," he continued. "I want to provide resources for at-risk, specifically first generation, students to better their future."
Thompson likes to say that he has a big heart for serving others. In addition to expressing appreciation that his current responsibilities enable him to do just that, he reminds all who might be in need that his office always is open.