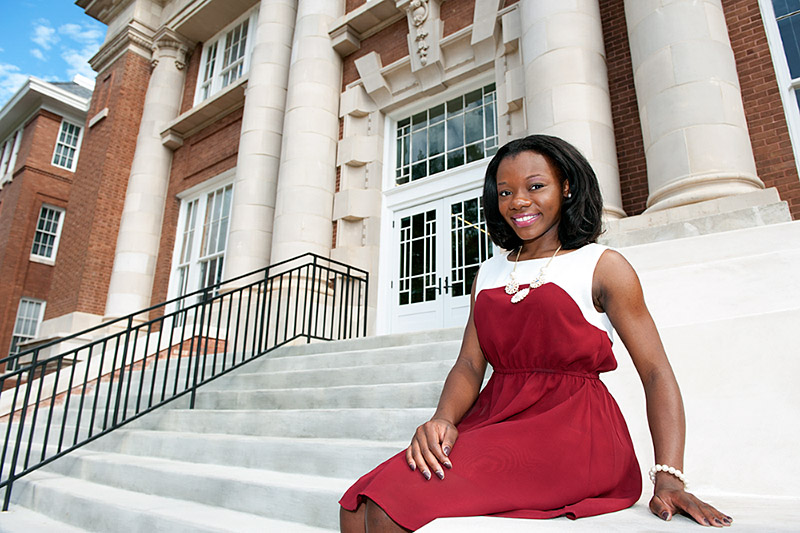 As president of I.D.E.A.L. Woman, senior Bianca Tatum wants to do everything in her power to help other students find their place at Mississippi State.
An acronym for Intelligent Dignified Elegant Ambitious Leaders, the business-oriented campus organization sponsored by the university's Holmes Cultural Diversity Center has been helping young women achieve personal and professional growth since 2009.
"We try to introduce them to other students, faculty members and community leaders with similar goals as themselves by sponsoring community service projects, workshops, and other bonding activities," says Tatum, a marketing major who joined the group as a freshman.
"There are a lot of girls who are really shy at first, so we try to help them build their self-confidence," the Jackson native explains. "We want them to see that they're capable of taking on top leadership roles on campus and within their chosen career field."
Also pursuing a minor in communication/public relations, the daughter of Anita Young says she remains "humbled" by the opportunity to serve as a 2014-15 Alumni Delegate. She also is a proud member of Mississippi State's chapter of Alpha Kappa Alpha sorority.
A 2014 Spirit of State award winner, she says the cowbell—and especially the fact that someone has to buy you your first one—is among her favorite campus traditions.
For success she has enjoyed, Tatum expresses particular gratitude for the support of four individuals: Cedric Gathings, assistant dean of student affairs and HCDC director; Ra'Sheda Boddie-Forbes, HCDC associate director and I.D.E.A.L. Woman faculty adviser; Tommy Stevenson, chief diversity officer and director of the Office of Institutional Diversity and Inclusion, and NaToya Hill, OIDI recruitment, retention and program specialist.
"Mississippi State's campus always has been very welcoming, and the people here have always been so nice," she says. "They want you to be who you are, and they all do a really good job of helping you navigate your way through college life."
Obtaining master's and doctoral degrees and launching her own consulting firm are among Tatum's major personal aspirations. The Murrah High School graduate also hopes to one day establish a scholarship fund for students in her hometown's public school district.
"It took somebody building me up to get me to where I am today, so I want to do whatever I can to help another young girl or young man reach their full potential," she says.