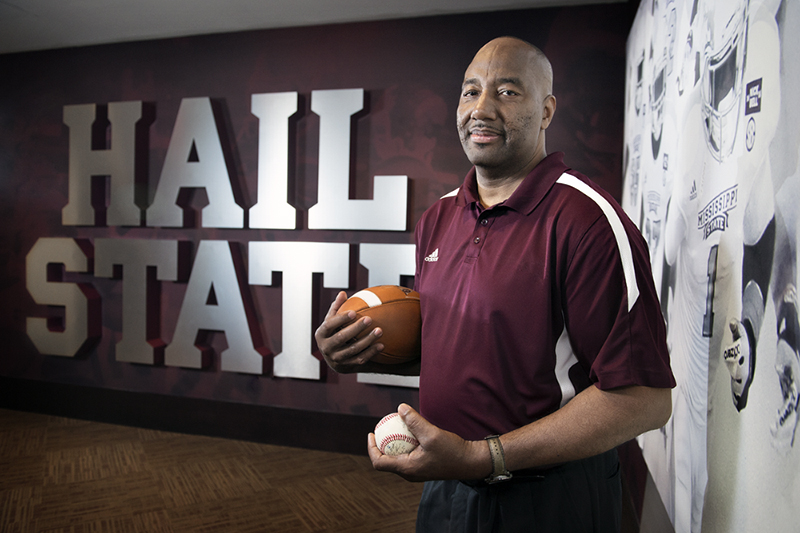 He's blessed to be a Mississippi State alumnus, blessed to be a 2009 MSU Sports Hall of Fame inductee and blessed to be a former NFL wide receiver and kick returner.
But more than anything, Glen Young is blessed to be a strong family man.
"Seeing and spending time with my kids and grandkids are the most important things to me," said the kinesiology instructor who has been teaching at his alma mater for more than 17 years.
A former Mississippi State athletics department compliance officer, the Greenwood native first came to the university in 1979 on a football scholarship and ended up playing another sport, as well.
"I've always played several different sports, but I really loved baseball more than I did football," he admitted. "My football coach (Emory Bellard) agreed to let me play baseball, so I ended up playing my sophomore and junior years because the first year I had to go to spring football."
"I started really excelling in football in my junior year of college, and it wasn't until then that I realized I had a chance to get drafted," said Young, who was a Philadelphia Eagles' third-round pick in the 1983 NFL Draft.
He also played for the Cleveland Browns, where he spent the majority of his five-year pro football career.
"It was a great big adjustment, "Young said of his time in the NFL. "A lot of people never get to experience that kind of thing. It's something that I will never forget, and something that I (always) will be talking about with my children and grandchildren, "added the proud father of five daughters and "Paw Paw" to three grandsons.
Young, who teaches a variety of sport and health-related classes, said he loves working with college athletes because it "keeps me young and on my toes.
"In some of them, I can see myself years ago,"he said. "I tell them that it's ok to be a good athlete, but it's important to put school first because very few players will go to the NFL."
"I had been out of school for eight years, but I made sure I came back and finished my undergraduate degree, "said the industrial education graduate who went on to receive a master's degree in physical education, also from MSU.
No matter what, Young's main motivation in life always will be to "make my mom and dad proud.
"They worked so hard to keep us going as a family and got me and my two older brothers and younger sister what we needed and where we needed to be, "he said. "All of us had the chance to go to college, and all of us graduated from college."
To Young, every day "is a celebration because I'm so proud of everything that's happened in my life.
"My playing days are over, but I get so much enjoyment out of seeing my kids doing well and seeing my grandkids starting to play sports,"he said. "It's just incredible."