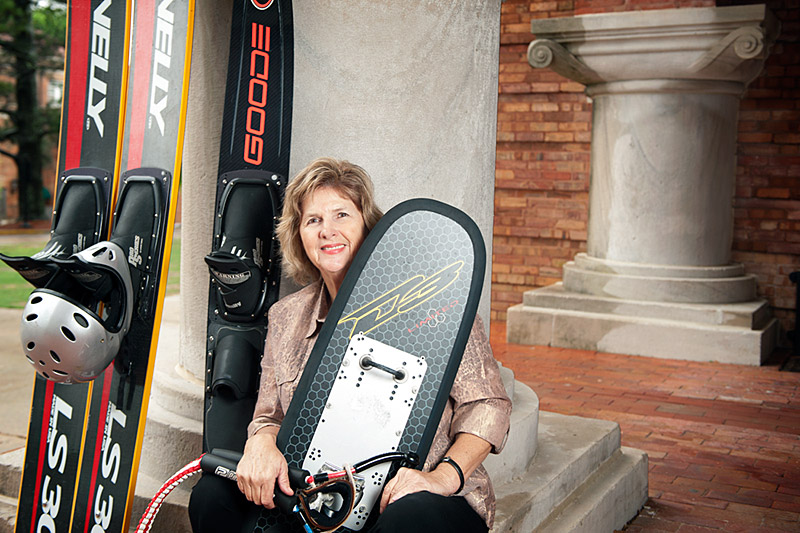 Brenda Cavenaugh has been working in the field of blindness rehabilitation and education for nearly 40 years, about the same length of time that she has held on to another passion: water skiing.
Cavenaugh, research professor at MSU's Rehabilitation Research and Training Center on Blindness and Low Vision, earned her doctorate at MSU after earning her master's and undergraduate degrees in her home state of Arkansas. It was there that she was introduced to water skiing in a small county lake in Jonesboro in the 1970s.
She fell in love with the sport and competed for about 12 years until her academic life and family responsibilities required a break from her favorite pastime. But while many people allow passing time to carry them further away from an old love, Cavenaugh rekindled her enthusiasm for the sport around 2000 and began competing again two years later. To celebrate her 60th birthday, she received a new pair of jump skis.
A nationally-ranked water skier in Women VI (ages 60-65), Cavenaugh skis four to five times weekly in the Tennessee-Tombigbee Waterway, seizing every chance she can to step into the water beginning in February and extending her ski season as long as December. Wet suits and even a dry suit help her endure the cold water, and the year-round convenience of living on the river makes regular skiing and boating a way of life for her.
During spring break, Cavenaugh spent her time enrolled in a nationally renowned water ski school in Orlando, Fla. She is preparing to depart soon for another chance to develop her sport with professionals and amateurs alike as she cultivates her slalom, trick and jump ski methods.
"I plan on water skiing as long as I can get in the water," Cavenaugh said. "My goal is to be the oldest competitor at the USA Water Ski Nationals."