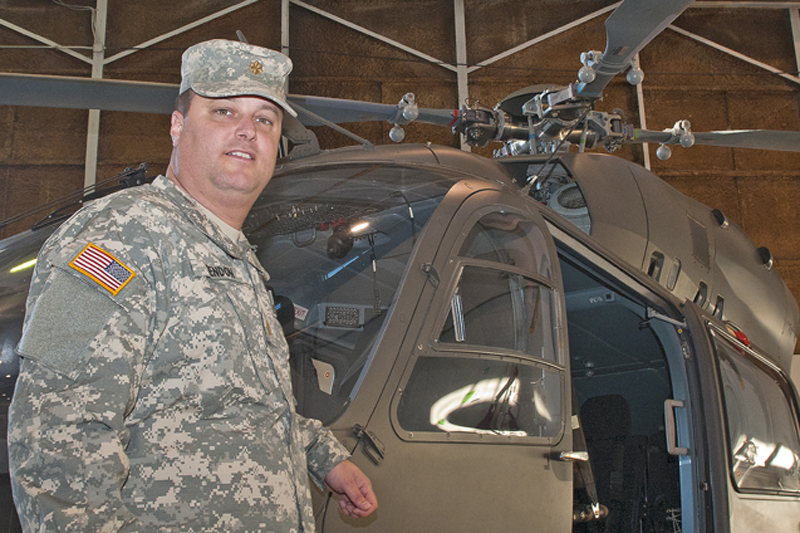 In 1996, Andrew Rendon left Starkville intent on seeing the world through the windshield of a helicopter.
With an officer's commission fresh on his shoulders and a master's degree in his hands, he tackled his dream as a chopper pilot for the U.S. Army. In the 14 years that followed, he flew missions across the globe, including two tours in Kosovo, the latest of which was in support of Operation Enduring Freedom.
Rendon returned to Mississippi State in 2006 as an ROTC instructor and, not long after, he was tabbed as director for the G.V. "Sonny" Montgomery Center for America's Veterans.
Now a major in the Mississippi National Guard, he is currently the commander of an aviation company stationed in Tupelo and is still flying missions between helping service men and women, veterans and their dependents take advantage of VA benefits for higher education.
Rendon said that while his experiences flying missions across the globe were exciting, having the opportunity to put his skills to work in support of his home state is especially rewarding.
In 2005, he served a deployment to the Mississippi Gulf Coast to support rescue, recovery, and food re-supply operations following Hurricane Katrina. This summer, he returned to the region, where he spent four months following the Deepwater Horizon drilling disaster flying missions scouting for oil along the coast and barrier islands.
"It is very rewarding to serve your country, but it really hits home when you are out there supporting your own state," Rendon said. "I love flying and being a pilot, but my passion is taking care of our soldiers and doing all that I can to help them make the transition to being civilians as easy as possible. I have been given a unique opportunity to be able to take care of our men and women in uniform through the Center for America's Veterans. Leading them and taking care of them is ultimately what I enjoy doing most."